The Windows 10 Mail app is an easy way to access your mail to send and receive emails from recipients and receive a notification that you've received an email. Although the Windows 10 app's AutoCorrect and Spell Check features help you with your grammar, you can turn them off. Some users will want to turn off their autocorrect or spell check feature because they type their emails in another language and prefer to eliminate autocorrect due to annoyance.
This tutorial explains the steps to turn off the autocorrect or spell check feature in your Windows 10 mail app.
Autocorrect: Automatically correct common spelling mistakes and typos.
Spell check: software feature that checks for spelling errors in a text.
Disable AutoCorrect or Spell Check in Windows 10 Mail App
There are two methods to turn off AutoCorrect or Spell Check feature in Windows 10.
Via Windows 10 settings
Click the Start button and choose Settings.
Then double click Devices.
In the left pane, select Typing.
To turn off autocorrect, set the Automatic correction of misspelled words toggle button for Disabled.
Disable all other toggles below related to autocorrect.
Via Mail app settings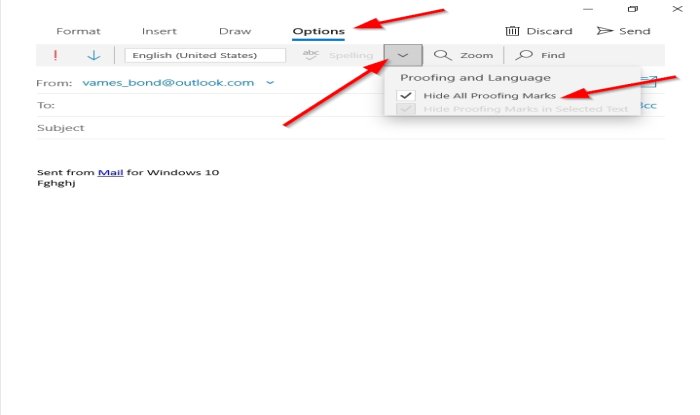 Open the Windows 10 Mail App.
In the Windows 10 Mail application, click the new mail button.
On the new mail window, click the Choice button.
Then click on the Spelling box drop-down arrow.
Below Proofreading and languageCheck the box Hide all proof marks; the Hide verification marks in selected text will be disabled.
Make sure the box is checked.
If you start typing in the messaging app, you won't see any form of autocorrect or spell check.
We hope this tutorial helps you understand how to turn off autocorrect or spell check in Windows 10 Mail app.